About Cloisonne
Every cloisonne ornament includes original artwork designed by Kitty Keller, which is then hand-crafted using a time-honored and meticulous process. The results? A genuine and one-of-a-kind masterpiece. Cloisonne, which means "to compartmentalize," is an ancient art form introduced to China by western travelers in the 14th century.
The process includes:
The design is initially drawn on the copper ball.
Highly trained artisans take copper wires, in bundles of 20, and form and shape the design on the ornament. After the wires are shaped, they are placed onto the copper ball and soldered.
After the cloisons are created, they are filled with paint. The paint is a colored-glass paste (or enamel). The paste is colored with metallic oxide and mixed to match PMS colors.
The ornament is fired at about 800° Celsius. The enamel can sometimes shrink, so the painting/firing process might have to be repeated.
The ornaments are then cooled, polished, and plated in 24k gold.
Every piece is handmade using this very detailed process, meaning that no two ornaments are identical. We're thrilled to share revered cloisonne pieces with the world. Our exclusive partnerships support indigenous Chinese artisans and a 1,000-year-old tradition. Kitty Keller Designs is the only boutique to provide authentically hand-crafted cloisonne ornaments in the world. Experience the difference only found here.
Creating the ball shape – Connecting the two round halves together by hammering & using soldering wire.
Each round ball is individually fired to solder the two sides together.
Once soldered, the copper balls are ready for the wires to be affixed to the ball.
Wires are formed and shaped in groups of 20 to create the design on the ball.
The cloisons (sections creating the design) are filled with an enamel paint paste.
The deisgn has been affixed to the ornament. The next step is filling the cloisons with the powdered enamel paint.
The ornament has been painted. The ornament will now be fired to make the surface smooth.
On the left shows the designs created by Kitty Keller. These are used by the artisans to create the design. On the right is the finished product.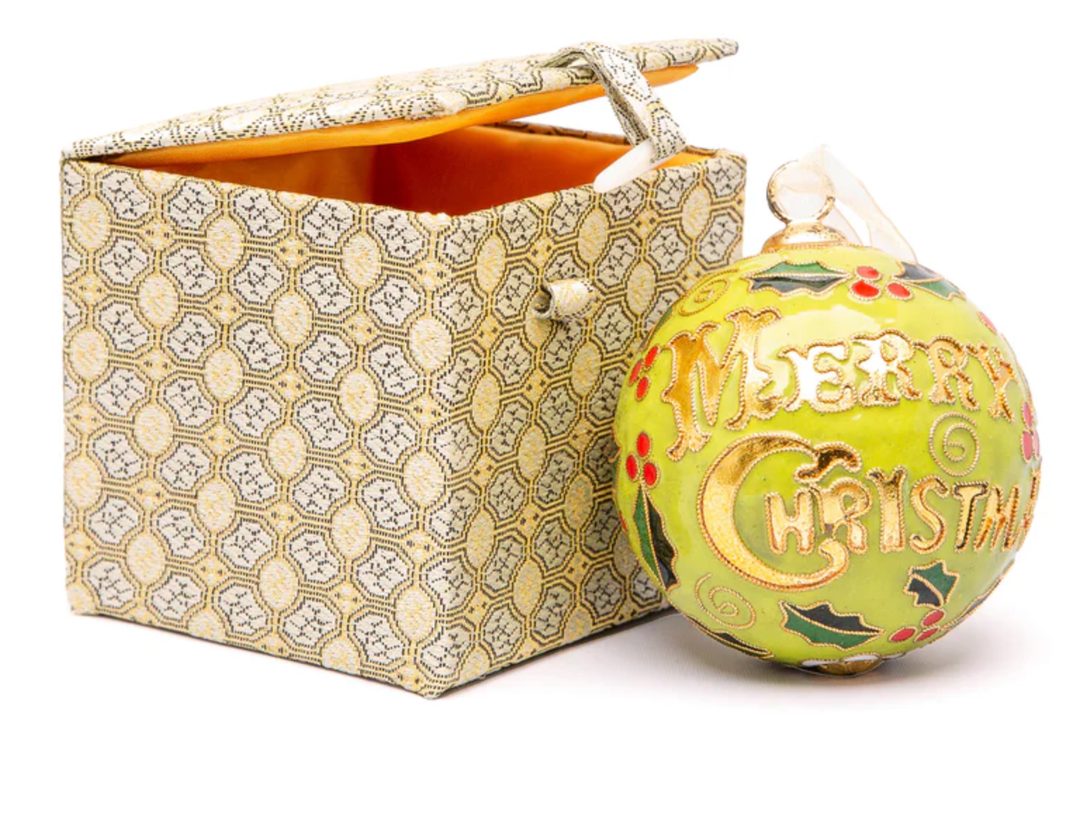 Ornament Care & Storage
Preserve your precious memories using these tips:
– Store your ornament in the original or similarly protective container; the hanger should face up toward the corner to avoid damage
– Our glass ornaments can shatter if dropped on a hard surface; please handle with care.
– Avoid pulling the ornament out of its package by the hanger or ribbon.
Interested in Wholesale Custom Design?
Begin carrying our exceptional line of ornaments in your store. Contact us for current pricing, minimums, and stock available to ship. Custom ornament design is also available. Let us use our decades of experience in creating a beautiful ornament design that is exclusive to you. Begin the Tradition! Email us for more information.
EMAIL US NOW